Welcome to the ultimate guide to listening and playing music on Spotify Web Player! Spotify Web Player provides a full-featured streaming experience directly in your browser. Access your personal music library and Spotify's vast catalog without needing any downloads.
This blog post will explore the various features and functionalities of Spotify's web-based music streaming platform. This comprehensive guide covers everything you need to know to enjoy tunes through Spotify Web Player. Whether you're a long-time Spotify user or new to the platform, this guide will help you quickly navigate the music world.
What is Spotify Web Player and How Does It Work?
Spotify Web Player is an online streaming service that lets you listen to music and podcasts from any web browser.
Spotify Web Player lets you access your favorite music directly from your web browser without downloading additional software. This means you can enjoy your favorite tunes on any computer, regardless of your operating system. Spotify Web Player covers you whether you're on a Windows PC, Mac, or even a Linux machine.
It gives you the complete core Spotify experience without installing any apps. Spotify Web Player allows you to:
Stream your music library
Browse Spotify's catalog of over 82 million tracks
Create, save, and share playlists
Discover new artists, albums, and podcasts.
Enjoy playlists and radio stations curated by Spotify
Seamlessly search for your favorite music and podcasts
Control playback and volume
Share songs, albums, and playlists.
Spotify Web Player works on all major browsers like Chrome, Firefox, Edge, and Safari. To use it, open.spotify.com and log in with your Spotify account.
If you don't have an account, you can quickly sign up for free or try Premium. Once logged in, you can play tunes through the web player like the desktop or mobile app.
The Key Benefits of Spotify Web Player
Spotify Web Player offers several advantages:
Access Your Music Anywhere – Listen on any device with an internet browser. No downloads or apps are required.
Stream Music Ad-Free – Spotify Premium members can enjoy ad-free listening. Spotify Free has ads.
Discover New Music – Explore Spotify's vast catalog and personalized recommendations.
Create and Share Playlists – Make customized playlists to organize your favorite music.
No App Clutter – Avoid downloading extra apps and save device space.
Cross-Platform Compatibility – Works seamlessly on Mac, Windows, and Linux.
For music on the go, Spotify Web Player provides a lightweight and convenient listening option requiring only a browser and an internet connection.
Getting Started with Spotify Web Player
Using Spotify Web Player is simple. Just follow these steps:
Signing Up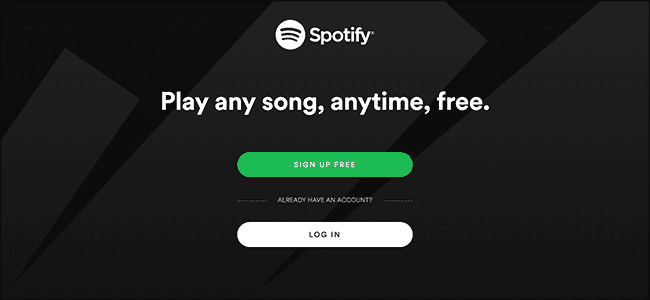 Go to open.spotify.com
Click "Sign up" in the top right corner
Choose "Spotify Free" or "Spotify Premium"
Enter your email, password, DOB, etc
Click "Sign Up"
Once signed up, log into your account to start using the web player.
Explore the Interface
Spotify Web Player's intuitive interface makes finding content easy: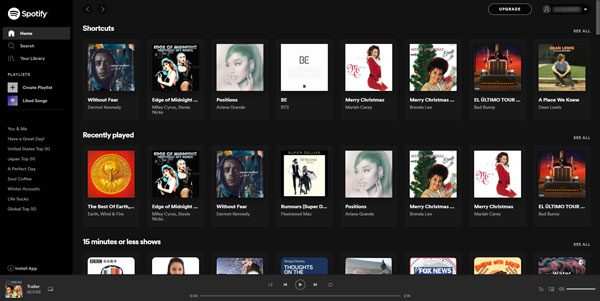 Search bar – Find songs, artists, albums, podcasts
Home tab – Personalized recommendations
Your Library – Access playlists, liked songs
Playlists tab – View and edit your playlists
Now Playing bar – Control playback
Navigating is seamless. You can quickly search, play music, create playlists, and more.
Core Features and How to Use Spotify Web Player
Now let's explore key features for listening to music and customizing your experience.
Searching and Discovering
The search bar allows finding specific tracks, playlists, albums, artists, and podcasts. As you type in the search bar, recommended results will appear.
For music discovery, browse playlists curated by Spotify based on genres, themes, and activities. Check the Home tab for personalized recommendations based on your listening history too.
Your Music Library
The "Your Library" section lets you access:
Playlists you've created and saved
Albums and songs you've liked
Podcasts you follow
Easily organize your music here. Create customized playlists for any vibe or occasion.
Playing Music
You can start playing music in a few ways:
Search for a song and click on it to play
Click on an album or playlist to play it
Use the Now Playing bar to play, pause, skip tracks, and control the volume
Additional player features like shuffle and repeat modes allow you to customize playback.
Recommendations and Radio
For music discovery, Spotify offers personalized recommendations on the Home tab. Radio stations based on your listening history are also available.
Sharing Music
You can share music by clicking the three-dot menu next to any track, album, or playlist. Choose social platforms or copy the link.
You can also share your listening activity with friends through Facebook integration.
Enhancing Playlists
Easily craft playlists for any vibe or occasion. You can give them creative names, add cover art, rearrange songs, and collaborate with friends.
Podcasts and Audiobooks
Beyond music, Spotify allows you to browse, discover and stream podcasts and audiobooks through the web player.
Customizing Your Spotify Web Player Experience
One advantage of Spotify Web Player is the ability to customize settings for your perfect listening experience.
Account Settings
Update your username, profile photo, and password, and manage email preferences in Account Settings. You can also add a short bio.
Audio Quality
You can select audio quality under Settings based on your internet speed. The higher rate uses more data.
Social Profile
Connect your Spotify and Facebook accounts to share listening activities with friends. Toggle this under Social Settings.
Language and Region
Change your Spotify Web Player's display language and country setting to match your location and preferences.
Dark Theme
Enable Dark Theme under Display Settings for a more effortless low-light listening experience.
Keyboard Shortcuts
Third-party browser extensions add keyboard shortcuts to control Spotify Web Player, simulating the desktop app.
Devices Compatible with Spotify Web Player
One benefit of a web-based service is broad device compatibility. You can use Spotify Web Player on:
Desktops and laptops – Windows, Mac, Linux operating systems. Requires a web browser like Chrome or Firefox.
Smartphones and tablets – Android and iOS devices. Use mobile web browsers like Chrome or Safari.
Smart TVs and media players – Many intelligent TVs and devices like Roku or Chromecast have integrated web browsers to access Spotify Web Player.
As long as a device supports web browsing, you can enjoy Spotify Web Player on the go.
Pros and Cons of Spotify Web Player
Pros
Access vast music catalog anywhere
Stream ad-free music (with Premium)
Create and share playlists
No app downloads needed
Compatible across devices and platforms
Intuitive interface
Customizable audio quality
Cons
Requires a consistent internet connection
The free version has ads
Limited options compared to desktop/mobile apps
Less robust music discovery and recommendations
Can't download songs for offline listening
While the Web Player lacks some advanced features of the desktop and mobile apps, it excels at on-the-go streaming accessible from any device.
Top Tips for Using Spotify Web Player
Take your Spotify Web Player skills to the next level with these pro tips:
Use advanced search operators – Search by date, genre, mood, etc., using syntax like "genre: classical."
Follow playlists and artists – Discover new releases and stay updated with artists you like.
Browse Spotify-curated playlists – Let expertly crafted playlists match your vibe based on genres, activities, decades, and more.
Optimize settings for data usage – Lower streaming quality if you have a limited data plan.
Enable private listening – Disable social sharing options for private listening.
Use keyboard shortcuts – Control music playback and volume without touching your mouse.
Cast to speakers or TV – Cast Spotify Web Player to speakers and devices using WiFi for enhanced audio.
With these tips, you can take your Spotify Web Player experience to the next level and enjoy the perfect listening experience.
Spotify Web Player vs. Desktop & Mobile Apps
How does Spotify Web Player compare to desktop and mobile apps? Here's an overview:
Spotify Web Player
Access anywhere through the browser
No downloads
Limited music discovery
Less customizable
Desktop App
Download required
More robust features
Advanced customization
Desktop keyboard shortcuts
Listen offline
Mobile App
Download required
Offline Listening
Limited controls on the free tier
Mobile-optimized interface
Seamless device integration
The web player focuses on fast, convenient access from any device, while the desktop and mobile apps provide more advanced capabilities. Evaluate your needs to pick the best option.
Bottom Line
Spotify Web Player delivers an easy-to-use streaming experience directly in your browser. With an internet connection, you can enjoy ad-free listening, create playlists, share tracks and enhance your audio settings.
Compared to desktop and mobile apps, the web player offers quicker access balanced by fewer robust features. But for music on the go, it provides an unparalleled lightweight option accessible across virtually any device.
To enjoy millions of songs anywhere, log into Spotify Web Player. With this guide, you now have the knowledge to master Spotify's web-based streaming – so you can start listening today!
Frequently Asked Questions
What is the difference between Spotify Free and Premium?
Spotify Free has ads and less on-demand flexibility. Spotify Premium removes ads, allows downloading, and has enhanced features.
Can you use Spotify Web Player offline?
No, it would be best if you had an internet connection. But Premium subscribers can listen offline using desktop and mobile apps.
What browsers are compatible with Spotify Web Player?
It works seamlessly on Chrome, Firefox, Edge, Safari, and most popular browsers.
Does the web player have all the same features?
The web player focuses on core streaming. More advanced features like robust recommendations require desktop/mobile apps.
Can you listen to podcasts on Spotify Web Player?
Yes! You can stream podcasts and audiobooks on Spotify Web Player like desktop and mobile apps.