Luxurious hotels have long captivated people as the pinnacle of richness, extravagance, and unrivaled service. They transfer us to a world where every whim is attended to and every wish is realized. These are the sites where wishes are granted and memories are formed.
However, not all hotels are the same. Some elevate luxury to new heights, providing experiences that redefine extravagance. Today, we'll look at the crème de la crème of accommodations: the world's 15 most costly hotels.
Buckle up for an exciting adventure through incredible places all around the world. From gorgeous penthouses with views of tranquil lakes to quiet villas tucked among lush tropical landscapes, each of these magnificent residences offers an extraordinary stay that will leave you speechless.
So be ready for an exclusive virtual tour like no other! Put your feet up and join us as we enter a domain dedicated only to those seeking maximum enjoyment and unrivaled luxury!
Top 5 Most Expensive Hotels in the World
Luxury knows no bounds when it comes to the world's most expensive hotels. These lavish hotels redefine luxury and provide visitors with an unprecedented degree of pleasure that leaves them breathless. From opulent penthouses to private villas, these top-tier lodgings take the notion of luxury hospitality to new heights.
1. The Royal Penthouse Suite at Hotel President Wilson in Geneva, Switzerland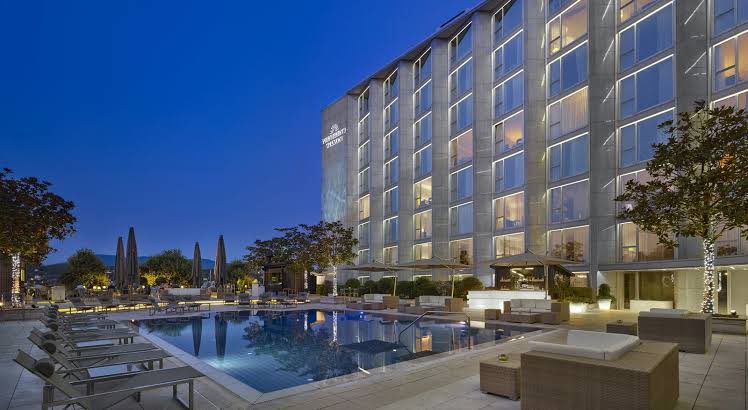 The Royal Penthouse Suite at Hotel President Wilson is a refuge of luxury and magnificence in the center of Geneva, Switzerland. For those seeking the height of grandeur, this genuinely magnificent suite provides an unmatched experience.
Prepare to be astounded when you enter this magnificent 12-bedroom suite covering over 18,000 square feet. From the artfully chosen artwork to the opulent furniture, every inch oozes elegance and grandeur. The vistas of Lake Geneva and Mont Blanc are truly spectacular.
Relax and unwind in your private spa area, which includes a Jacuzzi, sauna, hammam, and fitness center. For those who enjoy entertaining, the suite has its own magnificent dining area that can seat up to 26 people.
When it comes to guaranteeing each guest's comfort, no cost has been spared. From individual butler service accessible 24 hours a day to cutting-edge security measures for maximum privacy, no detail is neglected.
The Royal Penthouse Suite at Hotel President Wilson is the pinnacle of luxurious living. It's no surprise that it's one of the most costly hotels in the world – a real tribute to uncompromising excellence and unparalleled experiences. So treat yourself to a memorable holiday where your fantasies can come true!
2. The Grand Riad at Marrakech, Morocco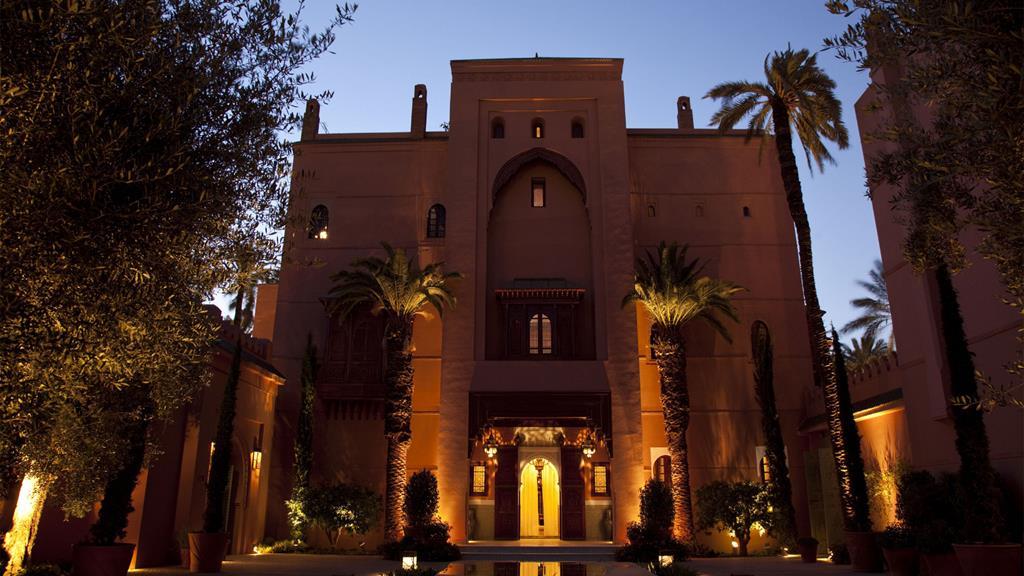 The Grand Riad, located in the picturesque city of Marrakech, Morocco, is a genuine jewel among expensive hotels. For those looking for the utmost luxury, this lavish retreat provides an unmatched experience.
Entering The Grand Riad is like entering an Arabian Nights universe. Guests are transported to another time and place by the delicate hand-carved features and brilliant colors. Each room and suite has been thoughtfully constructed to deliver the ultimate in luxury and comfort.
The vast riads are unquestionably the showpiece of this amazing hotel. These private villas are out of this world, with various bedrooms, vast living areas, private courtyards, and even their own swimming pools. They provide a sense of solitude and exclusivity that genuinely distinguishes them.
The spa at The Grand Riad takes pampering to new heights. Guests can relax with revitalizing massages and treatments or partake in traditional hammam procedures. The dining options are similarly excellent, with delicious Moroccan food offered in fine restaurants or on rooftop patios beneath the starry sky.
The Grand Riad's devoted staff goes above and beyond to ensure that every guest's stay surpasses expectations. No request goes unfulfilled here, from individual butler service to organizing amazing tours across Marrakech.
The Grand Riad in Marrakech is the place to go for an unrivaled luxury experience in Morocco. It promises to take you on an incredible trip of elegance and grandeur that will leave you wanting more.
3. The Hilltop Estate at Laucala Island Resort in Fiji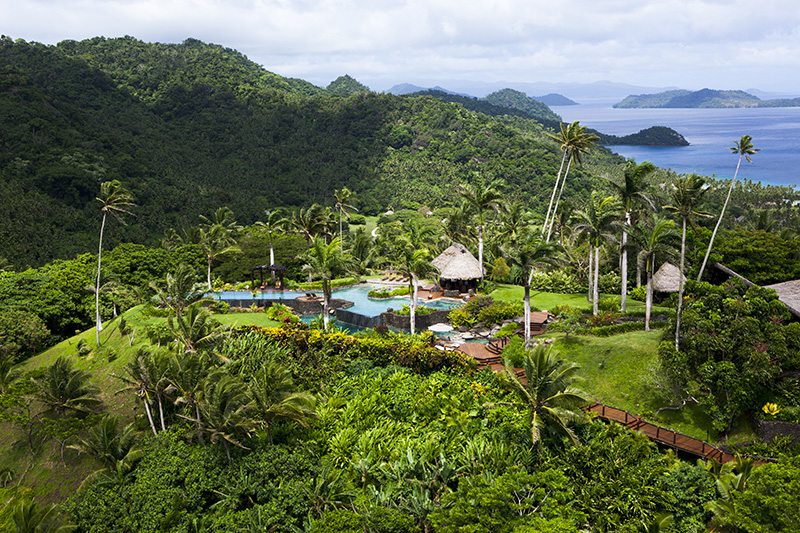 The mountaintop Estate at Laucala Island Resort is a haven inside a paradise, nestled on a mountaintop overlooking Fiji's blue ocean. For those looking for a unique holiday experience, this secluded hideaway provides the ultimate in solitude and elegance.
Lush tropical gardens and breathtaking panoramic vistas welcome you as you enter this spectacular estate. The architecture combines traditional Fijian design with modern conveniences to create a beautiful combination of comfort and flair.
The Hilltop Estate has several bedrooms, all of which are nicely decorated with excellent bedding and furniture. The wide living spaces allow plenty of space to unwind, and the private infinity pool provides a welcome respite from the tropical heat.
This estate has its own private chef who will attend to your every gastronomic wish for people who like culinary pleasures. As you eat outdoors under the stars, indulge in wonderful cuisine crafted from fresh local ingredients.
If you're looking for a place to unwind, go no further than the spa facilities at Laucala Island Resort. Relax with revitalizing therapies based on traditional Fijian healing methods.
Whether you spend your days relaxing by your private pool or exploring the magnificent beaches that surround the resort, one thing is certain: staying at Hilltop Estate will be an unforgettable experience. Immerse yourself in unrivaled luxury and forget about your troubles as you experience island life in Fiji's most spectacular lodging choice.
4. The Royal Villa at the Grand Resort Lagonissi in Athens, Greece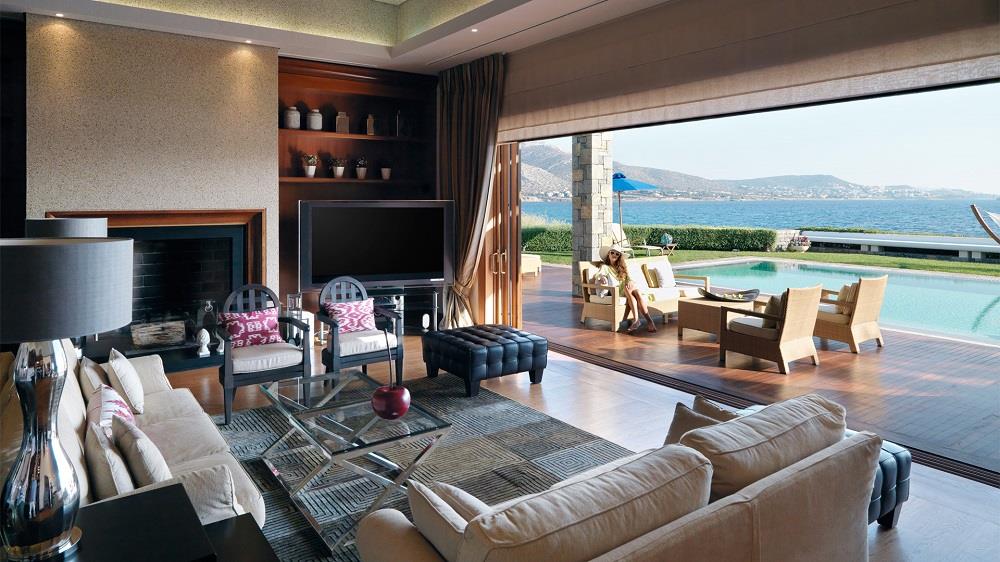 The Royal Villa at the Grand Resort Lagonissi in Athens, Greece, is a sanctuary of luxury and magnificence nestled along the Athenian Riviera. This magnificent home has stunning views of the Aegean Sea and its own private beachfront access.
When you enter the Royal Villa, you are welcomed with a feeling of grandeur. The opulent furniture and meticulous details in the enormous living areas create an aura fit for royalty. This property can comfortably accommodate big families or groups of friends due to its various bedrooms and bathrooms.
The outside space is similarly stunning, with a private infinity pool that overlooks the sea. Spend languid days lazing on soft loungers, drinking drinks from your own personal bar.
Spa treatments in the solitude of your own villa are ideal for individuals seeking maximum relaxation. Rejuvenating massages and luxury beautification procedures will be provided by trained experts.
The Royal Villa has thoughtfully handpicked every part of your stay to provide an exceptional experience. No aspect is neglected, from customized butler service to sumptuous meals cooked by world-class chefs.
If you're searching for an incomparable combination of luxury and tranquillity during your stay in Athens, go no further than the Royal Villa at Grand Resort Lagonissi – really a resort that guarantees unrivaled delight.
5. Lover's Deep – The World's Most Luxurious Submarine Hotel Experience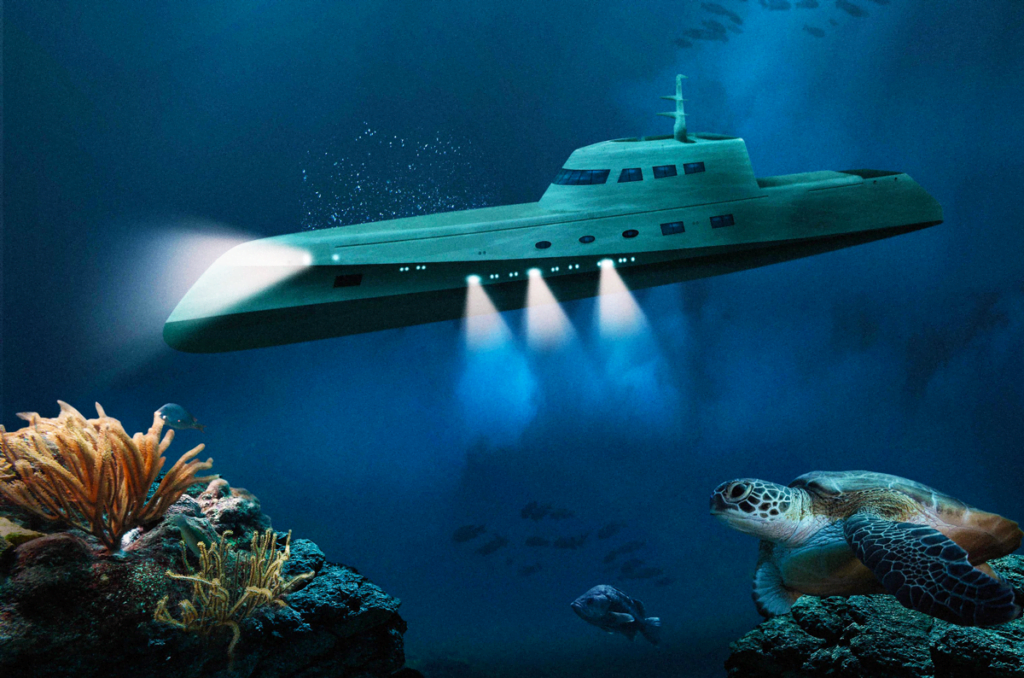 The Lover's Deep Luxury Submarine Hotel ought to be on your radar if you're searching for the pinnacle of grandeur. It's an underwater paradise that provides an amazing experience, not simply another opulent hotel. This submerged hotel in St. Lucia's breathtaking surroundings lets you travel the Caribbean in elegance.
You're not simply renting a room when you stay at Lover's Deep—you're going on an experience. Envision owning the entire underwater hotel to yourself, with a personal chef, a committed butler, and a captain all to yourself.
One of the outstanding aspects of this underwater hotel is the opportunity to adapt your experience to your tastes. You may traverse the Caribbean's crystal-clear waterways and choose your favorite places while staying in 5-star lodgings under the waves.
The magnificence of your room is not the end of your experience. Lover's Deep also provides optional extras like helicopter flights, beach landings on remote beaches, and champagne-soaked breakfasts to ensure that your stay is unforgettable.
Whether you wish to explore St. Lucia's spectacular marine life or prefer a calmer place, your skipper will listen to your instructions. This degree of customization distinguishes Lover's Deep, providing you with a once-in-a-lifetime adventure that you'll remember for the rest of your life.
Staying at the Lover's Deep Luxury Submarine Hotel is more than simply renting a room; it's about indulging in the world's most opulent and one-of-a-kind hotel experience. It's a voyage into the depths of luxury, where every detail is meticulously planned. Don't pass up the chance to make memories that last a lifetime at the world's most costly hotel.
6. The Empathy Suite at The Palms, Las Vegas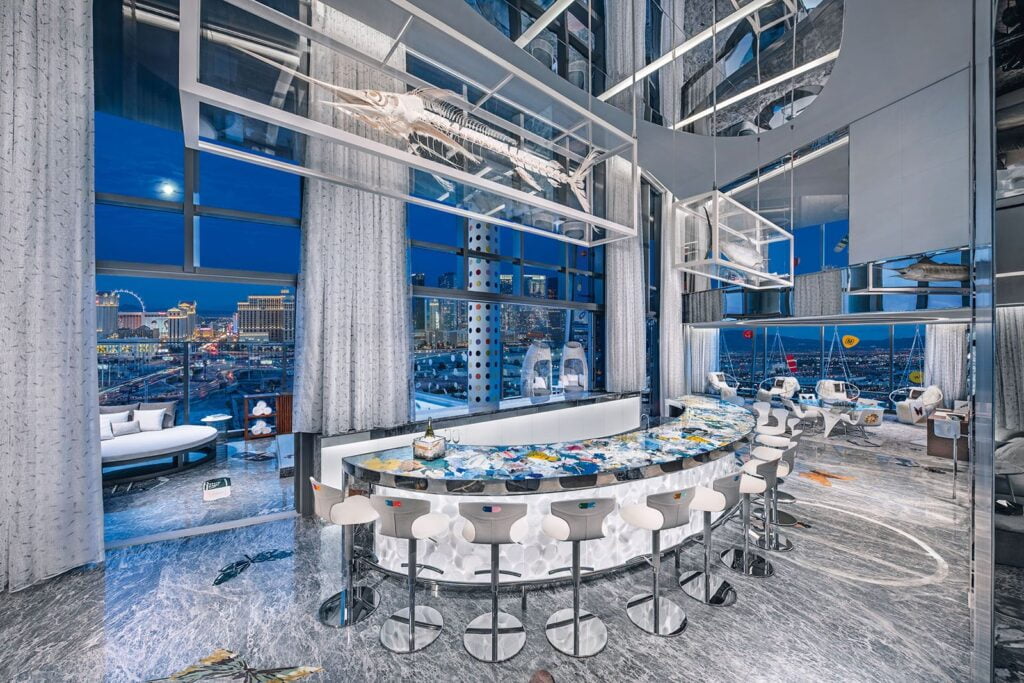 The Empathy Suite at The Palms in Las Vegas has established itself as one of the world's most costly and exclusive hotels. This suite is more than simply opulent lodging; it's a piece of art and an experience in and of itself.
Damien Hirst, a well-known artist, contributed his creative brilliance to turn the Empathy Suite into a beautiful masterpiece. It is a total redesign of the previous Sky Villa suite, providing guests with an altogether new level of luxury.
For a price of $100k, you'll get luxury luxuries including two master suites, massage tables for relaxation, and a cantilevered jacuzzi with views of the Las Vegas Strip. In addition, a salt relaxation room awaits, offering a calm respite from the hustle and bustle of the city, and visitors are given a private tour of the property's remarkable art collection and facilities.
For art aficionados, the Empathy Suite is a dream come true. It is a real gallery in its own right, including six original Damien Hirst sculptures. Even the handcrafted furniture has Hirst's characteristic themes, giving a one-of-a-kind and immersive art experience.
If you're a Damien Hirst lover with the means to indulge, the Empathy Suite at The Palms in Las Vegas is a wonderful treasure waiting for your visit. It provides an unparalleled combination of artistic immersion and exquisite comfort. Give yourself the gift of an amazing experience that goes beyond the typical concept of a hotel stay.
7. Kokomo Private Island Fiji – A Luxurious Oasis in the Heart of Paradise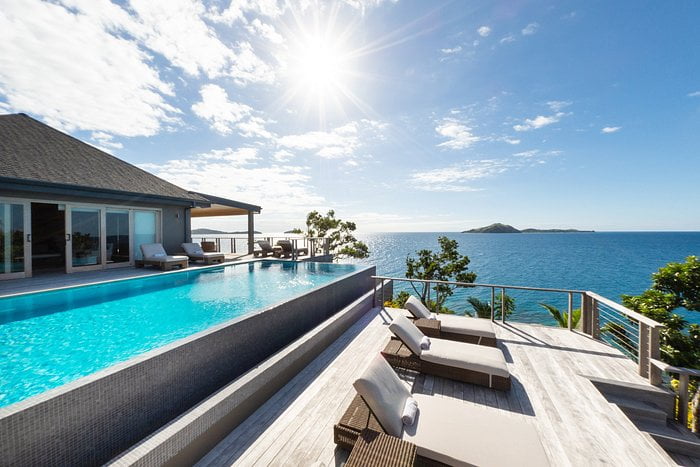 Lang Walker AO's Kokomo Private Island Fiji is a bit of heaven on Earth. This private island resort is where tropical holiday fantasies become a magnificent reality, and it's not just for the wealthy.
Kokomo has a variety of lodging alternatives to fit any traveler's needs. Kokomo Private Island is ideal for a romantic honeymoon, a single adventure, or a family holiday. The resort is snuggled by the Great Astrolabe Reef and provides a one-of-a-kind and sustainable luxury experience.
The resort offers first-rate amenities and can accommodate up to 40 guests. Daily housekeeping, air conditioning, free Wi-Fi, airport shuttles, and access to a private beach are all available to guests. There is also a kids club, bus service, grilling facilities, and a friendly front desk.
Kokomo has a range of lodging alternatives to match your unique requirements. The villas, with their own pools and spectacular sea views, are ideal for couples looking for a secluded getaway. Meanwhile, the hilltop houses are great for family vacations, with panoramic views of the lush tropical environs.
Guests at Kokomo have access to butler and nanny services around the clock, ensuring that their every need is fulfilled with precision and care.
Kokomo provides flexible alternatives that change with the seasons for individuals who want individual accommodations, making it more accessible to a wider spectrum of guests.
The Private Island of Kokomo Fiji is not simply a resort for the wealthy; it is also a location where everyone may realize their goal of owning their island getaway. The combination of luxury, sustainability, and a wide range of lodging alternatives assures that your vacation will be nothing short of outstanding. Discover this tropical paradise and experience the pinnacle of hospitality, all while being surrounded by the grandeur of the South Pacific.
8. The Mark Hotel, New York – A Legacy of Luxury Since 1927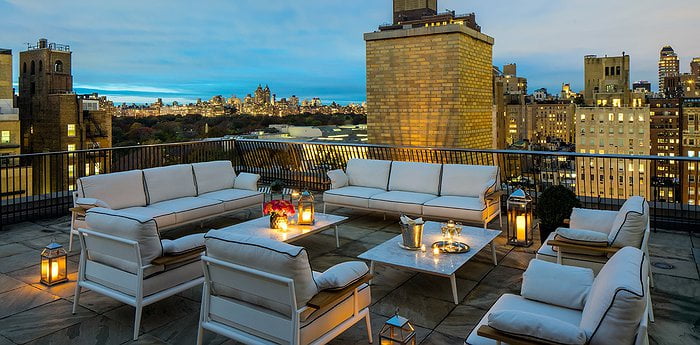 Since 1927, The Mark Hotel has reigned as the pinnacle of luxury in the center of New York City. This restaurant, designed by noted designer Jacques Grange, perfectly integrates modern comforts with a legendary legacy to provide an unforgettable experience.
The Mark Hotel, built by Jacques Grange, is a seamless blend of historical beauty and modern luxury. A multitude of contemporary conveniences add to its timeless history.
This Izak Senbahar-owned facility is a veritable urban sanctuary, complete with a fitness center, furnishings designed by Jacques Grange, hair salons, pedicabs, dining rooms, and premium stores.
The Mark Hotel sets a high standard with its most costly hotel pricing of USD 75,000 per night. Isn't it surprising? But keep in mind that it's in the center of Manhattan, where luxury knows no boundaries.
The internal size of 10,000 square feet is The Mark Hotel's showpiece. This big area has four bedrooms, luxury baths, and a large living room. But the extravagance doesn't stop there: the outside features a 2,500-square-foot terrace overlooking Central Park.
The Mark Hotel has been a symbol of wealth for than a century, and its attraction is further enhanced by Jacques Grange's amazing vision. It's more than a hotel with its unrivaled elegance, outstanding service, and desirable position; it's an experience that encourages you to immerse yourself in the timeless majesty of New York City.
9. The Royal Suite at Burj-Al-Arab, Dubai – Where Luxury Meets Extravagance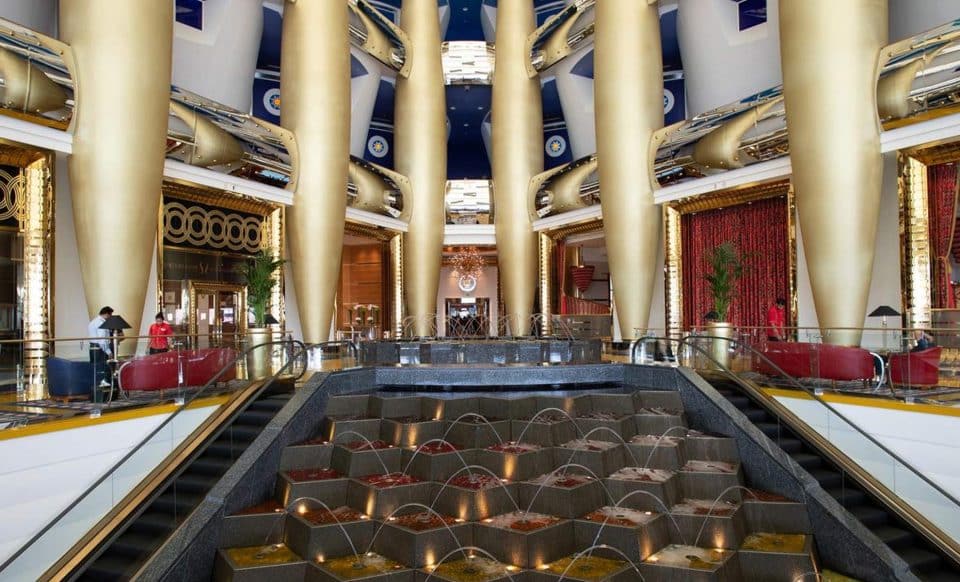 The beautiful Burj-Al-Arab, home to the luxurious Royal Suite, is in the heart of Dubai, where opulence is the standard. This hotel, designed by visionary architect Tom Wright, sets the standard for grandeur and extravagance, making it a must-see destination for discriminating guests.
The Burj-Al-Arab is more than a hotel; it is a symbol of Dubai's majesty. This seven-star masterpiece, designed to look like a ship's sail, features a synthetic beach and an eternally large pool deck. It climbs to a magnificent height of 180 meters, making it one of the world's highest hotels.
The Royal Suite, located on the 25th floor, is one of the most expensive hotel suites in the world, with a starting charge of $24,000 per night. It's a reasonable price given the grandeur it offers. The apartment is 780 square meters in size and features 22-karat gold embellishments.
The Royal Suite is the epitome of luxury. It has a private dining room, a butler, a spa, a private lounge, and a team of workers ready to meet your every want, 24 hours a day, seven days a week.
This spectacular suite's gold highlights aren't the only thing it has to offer; it also has three of the most lavish bathrooms you'll ever see, ensuring your stay is really fit for royalty.
The Royal Suite at Burj-Al-Arab offers an out-of-the-ordinary experience at $24,000 per night. Its grandeur, magnificent architecture, and unparalleled service allow you to live a life that is nothing short of regal. A visit here is more than a luxury; it is an investment in priceless memories.
10. Hotel Lutetia: Saint-Germain-des-Prés' Pinnacle of Luxury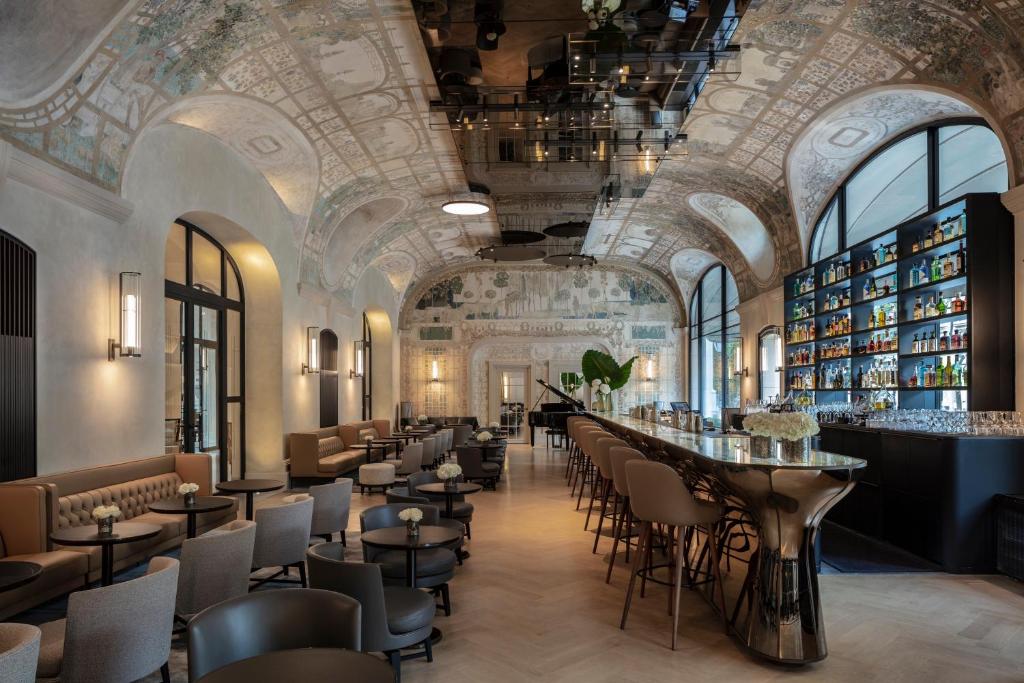 Hotel Lutetia, located in the center of Saint-Germain-des-Prés, is the peak of splendor on Paris's Left Bank. This Art Deco-inspired jewel is more than simply a hotel; it's a location where elegance and history blend effortlessly, allowing you to immerse yourself in the rich tapestry of Parisian culture.
Since its beginnings in 1910, Hotel Lutetia has served as a haven for celebrities such as James Joyce, Josephine Baker, and Pablo Picasso. Today, it's a magnet for people looking to see and be seen, especially on weekends when the bustling Bar Josephine comes alive with cocktail banter.
Hotel Lutetia had a dramatic $238 million facelift in 2018, with approximately 100 experienced artisans working in repairing its exquisite stained glass, elaborate mosaics, and ornate frescoes.
The lavish Presidential Suite is a haven of luxury that starts about $12,000 per night. It has a 657-square-foot patio with views of the Eiffel Tower, a bathroom with a full-sized Grecian-style goddess statue, and a private workout area.
Hotel Lutetia is more than a hotel; it is a location that epitomizes the essence of Paris. Its history, richness, and ageless beauty make it a must-see for visitors looking for an unforgettable experience in one of the world's most fascinating cities. A stay here allows you to experience the essence of Parisian charm and class.
Conclusion
We hope you liked this insightful tour of the world of luxury and beauty. The top ten most expensive hotels in the world are a testament to the lengths to which people will go in search of the perfect vacation.
Although the rates may look out of reach, these remarkable hotels provide a once-in-a-lifetime experience that transcends the ordinary. The capacity to indulge in such splendor is a luxury that every traveler should experience.
Why not share in the thrill of these amazing human creations, where money becomes a means to an unforgettable end? Your stay at the world's most costly hotels is an investment in long-lasting memories and a once-in-a-lifetime treat.
Did you ever think an undersea hotel could charge $150,000 per night? It was a surprise that took us by surprise, and it demonstrates the range of these remarkable lodgings. From classic, elegant city hotels in important global cities to submarine havens that sail through the Caribbean's crystal-clear oceans, these destinations reimagine what it means to experience luxury.
The range of luxury on display here represents the limitless imagination and potential that our planet has to offer. These hotels provide an astonishing tapestry of experiences, whether you're an art connoisseur, an undersea adventurer, or a connoisseur of traditional luxury. What an astonishing world we live in, where such treasures await anyone with a thirst for the unusual!